Each tomb in the Guayaquil Heritage Cemetery, where there are four tourist routes, is a sample of art and moves visitors. Photo Turisec
In the upper part of door 3 of the Guayaquil Heritage Cemetery there is a phrase: Hope towards the new life. And when crossing that gate, the visitor perceives how those buried there have life, an eternal life. His remains rest in a place of peace, art, culture, architecture and inspiration. It is an ideal space for tourism.
This November 2, All Souls' Day, the cemetery is a center of remembrance, prayers, arrangement of graves, a reunion between the living and the dead. But in that patrimonial area of ​​Guayaquil, in addition to family members, there is tourism. Tourism not only for that date but for the whole year. This year, for example, visitors are expected between November 3 and 6, during the holiday.
There are symbolic statues, works of art built even by world famous artists, in marble, bronze and other materials.
Tourist routes in the pantheon
The area for sightseeing in the Guayaquil Heritage Cemetery is located at gate 3. There are the oldest tombs and funerary mausoleums, others with sculptures made by world famous artists. It is an encounter with art, beauty, immortality. It is an ideal space for tourism.
The cemetery is divided into four routes. That of Writers and Artists, that of Fine Arts, that of Presidents and Heroes.
Parcíbal Castro, urban architect and historian, says that going to the patrimonial area of ​​the cemetery is an encounter with culture and highlights that the Municipality has provided guides to guide visitors.
The architecture and art of the tombs is impressive. The marble of the statues and carved figures shines in the sun. An angel rests dejectedly on the family tomb of Agustín Costa, while in the tomb of the Lizardo García family there is a marble figure of a woman with a beautiful carving.
Further on is the Demetrio Pino mausoleum built between 1890 and 1899 with two columns covered in marble.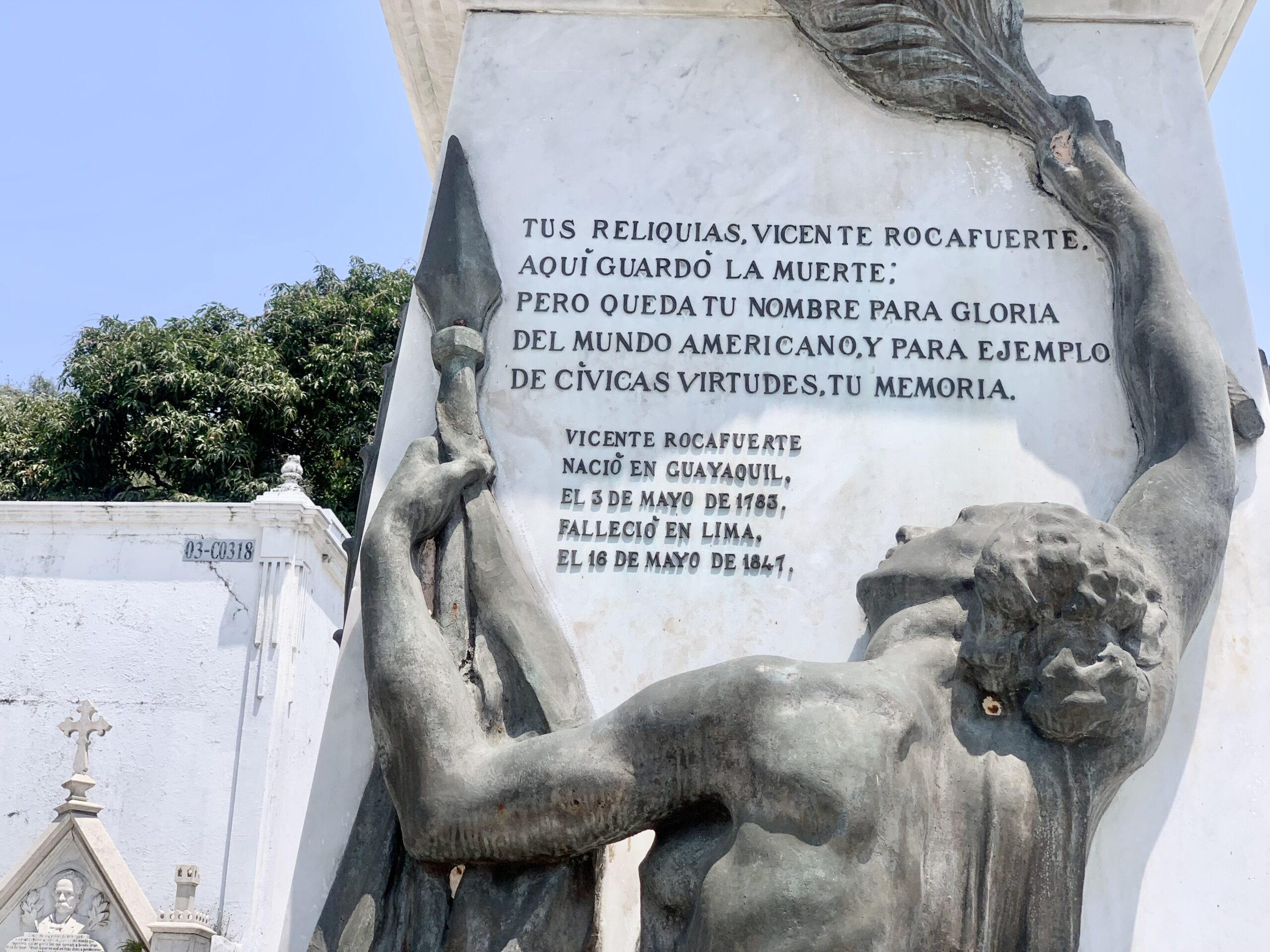 Epitaph placed on the south façade of the monument that evokes Vicente Rocafuerte and highlights his virtues.
On the route of the presidents there are 15 Guayaquil leaders who governed Ecuador and rest in the Patrimonial Cemetery of Guayaquil, a tourism center.
Vicente Rocafuerte is at the head of the gate 3 area. His statue, made of bronze and 2.20 meters high, remains on the pedestal on which there is a female figure made of concrete and painted green bronze.
The epitaph on his tomb says: "Your relics Vicente Rocafuerte, here he kept death, but your name remains for the glory of the American world and for an example of civic virtues, your memory."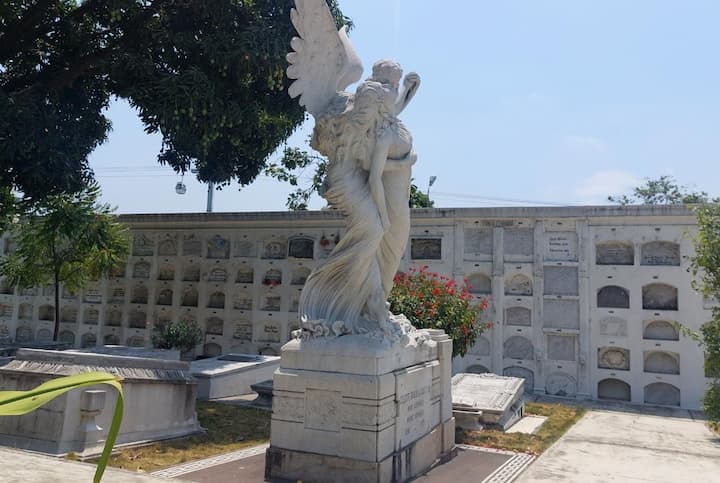 The sculpture called Angel's Kiss dedicated by her father to Celeste Graciela Castillo.
Parental and partner love
Following the route on the route of writers and artists is the grave of Ismael Pérez Pazmiño, independent journalist and founder of Diario El Universo, next to his grave is his wife who dedicated a poem to him.
Another tomb reveals parental love. ¨She lived adored, she died dreaming¨, says the tombstone where Celeste Graciela Castillo rests, daughter of an important    communicator from Guyaquil who, upon her death, hired the Italian sculptor Enrico Pacciani to create a true work of art.
It is about an angel who kisses the young woman as a presence of light at the end of earthly life. This has different perspectives at every angle you look at it.
Lender Torres, cultural manager, researcher and specialist in tourism and who created the routes of the Guayaquil Heritage Cemetery, explains that each detail of the sculpture demonstrates a unique work.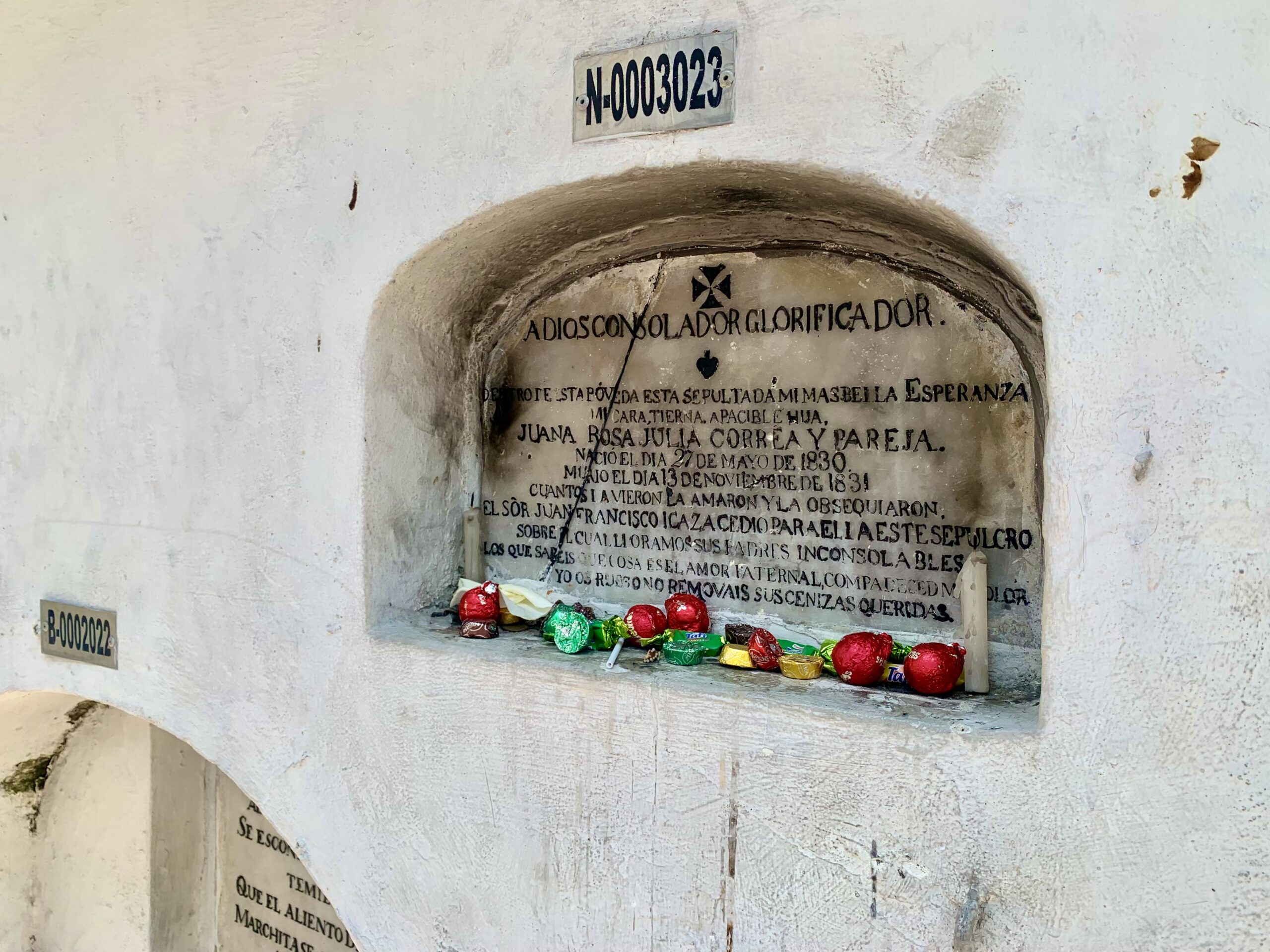 This is the oldest tomb and is loved by visitors, who leave sweets and toys for the girl buried there.
The grave of a girl who was born in 1830 and died in 1831 is located in the oldest block of the cemetery. People who visit the cemetery leave sweets on her grave as a gift.
Lender Torres highlights a text written by the mother on the tombstone, in which she asks never to remove the remains. Part of the text dedicated to Juan Rosa Julia Correa y Pareja says that everyone who saw her loved her.
"Mr. Juan Francisco Icaza gave her this sepulcher over which her inconsolable parents wept; those of you who know what paternal love is, pity my pain, I beg you not to remove her beloved ashes", quotes the moving letter of the mother . This is a space for sightseeing in the Guayaquil Heritage Cemetery, a tourism center. (I)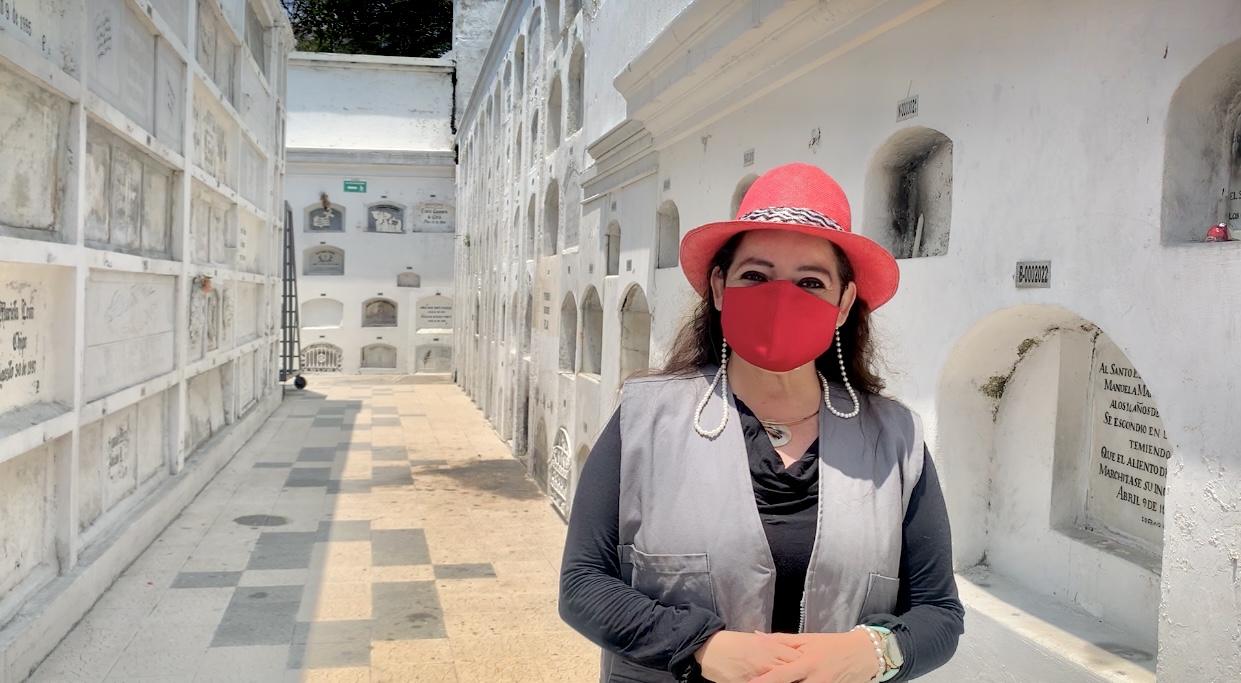 Lender Torres, cultural manager, researcher and specialist in orange tourism, created the cemetery routes.
The four routes of the Guayaquil Heritage Cemetery
José Joaquín de Olmedo

Rafael de la Cruz Ximena

Francisco María Claudio Roca y Rodríguez

Juan Illingworth Hunt

José de Villamil y Joly

Diego Noboa y Arteta

Francisco de Marcos y Crespo

Luis Fernando Vivero y Toledo
Manuel y Vicente Sotomayor Luna

José Domingo de Santistevan
Familia Avilés Boloña
Mariano González Alonso
María Yza de Musse
Familia Quiros
Tomás Gastelú
Julián Coronel
José María Aspiazu
Pedro Aspiazu
Lautaro Aspiazu
María Valenzuela Valverde
Efr+en Aspiazu
Judge Marengo
Josefa Avilés y Avilés
Agustín Costa
Demetrio Pino
Manuel de J. Cobos
Familia Dassum Brusa
Familia Tous Febres Cordero
Celeste Graciela Castillo
Leonardo Bello
Familia Ayluardo Calderón
Familia Fernández Madrids
José Vicente del Campo
Albert CM de Fisigni
Familia Luque Plata
Carmen García de Caamaño
Nicolás Molra y Familia
Tomás P. Carbo
Carmen Santistevan de Robles
Enrique Rohde
Emilio Bustamante Mora
Familia Icaza Noboa
Rafaela M. de Robles
George Chambers
Familia Mendoza
Lorenzo Ponce
José G. Peña
Gerolamo Costa
Juan Maldonado
Guillermo Rodhe Ortiz
Juan Bautista Bonnin
Bernardo Franco Martín
Familia Dillon Valdez
Luis Vernaza
Benjamín Dreher
Víctor Emilio Estrada
Clemente Yerovi Indaburu

Francisco Robles

Emilio Estrada Carmona
Lizardo García
Diego Noboa y Arteta
Vicente Rocafuerte
José María Mariano / Segundo de Urbina y Viteri
Eloy Alfaro Delgado
Alfredo Baquerizo Moreno
José Luis Tamayo Terán
Carlos Alberto Arroyo del Río
Carlos Julio Arosemena Tola / Carlos Julio Arosemena Monroy
Juan de Dios Martínez Mera
Jaime Roldós Aguilera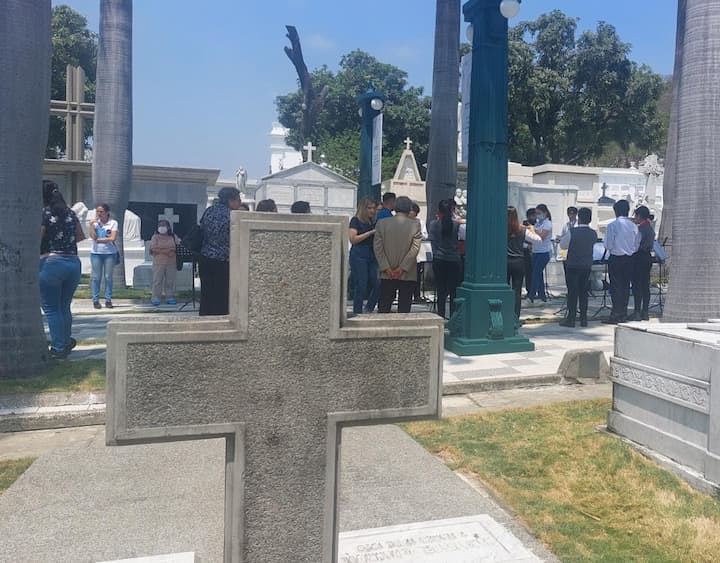 Route of Writers and Artists
Francisco Campos Coello

Mercedes González de Moscoso

Ismael Pérez Pazmiño

Enrique Gil Bilbert / Alba Calderón de Gil
Medardo Ángel Silva
Abel Romeo Castillo
Jorge Pérez Concha
José Antonio Campos
José de la Cuadra y Vargas
Numa Pompilio Llona y Echaverri
Juan Montalvo
Dolores Sucre y Lavayen
Ana Villamil Icaza
Pedro Carbo Noboa
José Joaquín de Olmedo Maruri
Aurora Estrada y Ayala
Joaquín Gallegos Lara
Julio Estrada Icaza
Enrico Pacciani Fornari
Adolfo H. Simmonds
Julio Jaramillo Laurido
Cuerpo de Bóvedas de la Sociedad de Escritores, Autores y Compositores de Guayaquil.